単語林オンライン和英辞書へようこそ!
Tangorin is a free online English ⇆ Japanese dictionary with a fast, responsive interface that helps you search through over million entries with various look up methods.
Search using English, Japanese, rōmaji, kana, kanji, tags, classification codes, etc..
Create custom vocabulary lists. Share them, print, and export to other software.
Look up words by selecting common parts of kanji using the Multi-Radical Search.
Use wildcards: * for zero or more characters and _ for exactly one character.
Display conjugation tables and kanji stroke order diagrams.
Customize your search results appearance.
Other
Common Kanji — Vocabulary lists of most frequently used kanji.
Student's Handbook — A collection of links for the Japanese Language student.
About — Learn more about Tangorin.
Bookmarklet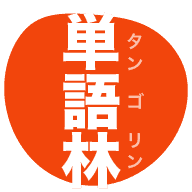 Tangorin ← Drag this link to your toolbar, select any word on any website, and click the bookmarklet to look it up on Tangorin.